There have been many explosions going off at Binary Cocoa this week! Mostly animated pixel art explosions in Tiled. Stephen has been pixel arting his brains out and is loving every minute of it. Too bad his code skills are still not up to snuff otherwise he would have made six games by now (not that they would have been super great). Here's a screenshot of a top down dungeon searcher game he was fixing up in Tiled: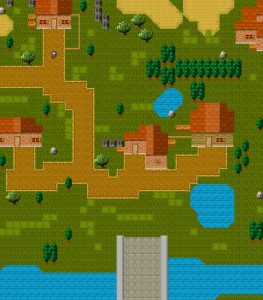 It needs some work still but it's getting somewhere!
In other Binary Cocoa news there has been an update to Collider that people can get through Steam! Joseph and Braxton did a major overhaul to the collisions system in the game and it runs much smoother now.  We've found ourselves on a couple torrent sites, and we're flattered, but we want everyone to have the latest version which can be found on Steam. We're getting close to releasing a new game mode called Serpentine and it is awesome. It might even be our first multiplayer over the network mode if we're lucky enough! We know that many of you have been asking for this and we are listening. We just don't know all the hows and whens yet.
Wet Blanket is also on its way! Stephen sat down today and did a good art chunk today and that's looking spiffy as well. Should arrive in December! Keep your ears to the ground! Watch out for trains though.