Hey everyone! We're not dead! Sorry for the lack of updates for the past couple of weeks. We've been super busy gathering info on Wet Blanket and making changes so that it meets expectations! Yay! Stephen has been hard at work every day trying to get the new drawings in, as well as making more cards for the expansion deck. All in all it's turning out well and we should be sending out stuff soon!
Joseph and Braxton have been dedicating their time to fixing bugs in Collider as well as starting to implement multiplayer in Egypt! They were battling a major bug that kept them on their toes for a couple days but it looks as if it is dead and we can update within a couple of days! Nice!
Stephen has also been doing some pixel art for a side scrolling platform game when he's not doing things for Wet Blanket. It's turning out pretty well! Here' s a screenshot of what that looks like: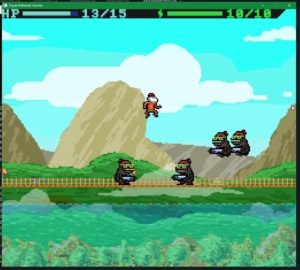 Anyway! Things are happening. So much in fact that the blog has suffered. Sorry. Thanks for keeping up with us to those that are reading still! More good news is on the way!