Hey everyone! We've been absolutely amazed at the response that we've gotten on our Wet Blanket Kickstarter page and we're crazy grateful. There's still time to pick it up if you're on the fence! Let us be diligent in pursuing the cause of the introvert.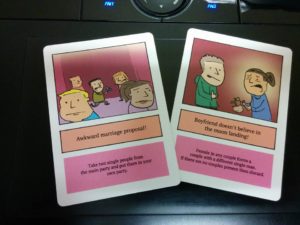 We're such hopeless romantics.
Our good friend Ford Erickson made a video for us that scares a lot of people but is also a lot of fun! Watch it at your own peril. Personally I think its a hoot. It gets some of the game mechanics a bit wrong but for the most part it explains the game. Here it is!
You were warned! Get Wet Blanket and get crazy with us!