It's Christmas time again! It's getting pretty festive around these parts at Binary Cocoa. We celebrated by drawing a Christmas tree on our office white board: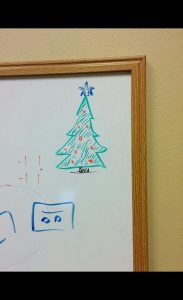 We might also have a surprise soon for the Christmas season! We only have five days left to make so we'll see if it actually happens. We hope it does for sure! It has something to do with the header of this article. And Street Fighter.
Wet Blanket decks have been ordered and they are currently in transit to everyone! They are also coming to the Binary Cocoa residence and we are anxiously awaiting their arrival. Thanks to everyone that ordered a deck and it's expansion set! We hope that it touches your inner nerd spirit. It certainly does for us.